With our continuous modernisation, come a very big price, one of which is our modern diet that rich in sugars and poor in nutriments, this opens the door for so many health problems the biggest of which is obesity.
Due to stress eating, genetics or many other factors, many people suffer from obesity, this disease can be the gate way to far worst health issues such as diabetes and high cholesterol.
And the problem is not just medical, but also aesthetic as having excess fat in your body makes you appear much older than you really are and makes your skin appear more loose and saggy.
Lucky for you, MedEspoir is here, and we have the perfect solution for the problem of obesity, we offer you the gastric balloon in Tunisia.
.With MedEspoir you will be able to have the gastric balloon procedure with the help of our top doctors, and you will save so much money with us.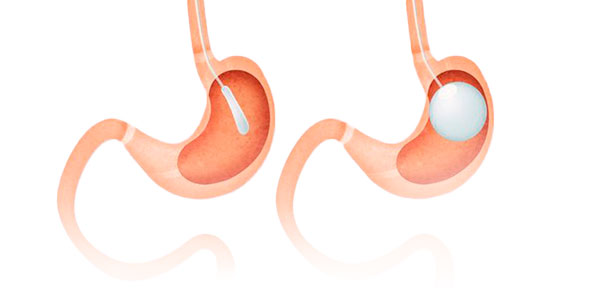 How much does gastric balloon placement cost in Tunisia ?
The cost of gastric balloon treatment is usually not covered by health insurance, so it is not an affordable solution.
For this reason, many patients choose to seek treatment abroad, in this case in Tunisia where the prices are much lower, and we at MedEspoir have the cheapest prices.
To offer you the best experience and keep you stress free we have decided to offer all our patients the most affordable prices possible for having cosmetic surgeries in Tunisia.
This is thanks to our all-inclusive package that allows you to have the gastric balloon in Tunisia while saving 70% on the price compared to other countries.
This is because our unique all-inclusive package covers:
The hotel room.
The cost of the operation and the tools that will be used.
All operation related transportation.
The doctor and medical team's payment.
The post-operative care and medication.
What is a gastric ballon ?
Gastric balloon placement is one of the most popular non-surgical weight loss operations.
The gastric balloon system consists of a flexible and expandable balloon, an indwelling tube and an inflation system.
Because the gastric balloon is too big to pass through the intestines, a small amount of food keeps you full for a relatively long time.
In general, intragastric balloons can significantly reduce portion sizes, helping you achieve your long-term weight loss goals.
Is the gastric balloon in Tunisia safe ?
This is the first question you need to think about because security is more important than money and all other factors that influence your decision making.
Gastric balloon placement is not even a surgical procedure and the process is very simple, however, you must ensure that the medical equipment and the clinic you are in are up to standard.
High-quality medical services are both the result and the reason for the boom in medical tourism in Tunisia.
It is also important to point out that Tunisian doctors are mostly trained in the largest French and European universities.
The country attracts several tourists from around the world who have thus benefited from quality health care at relatively favorable costs for several years.
Who are the best candidates for the gastric balloon procedure ?
Anyone eligible for gastric balloon placement can decide to undergo it in Tunisia.
This means that your BMI (body mass index) must be between 30 and 35.
Also, you must have tried exercising and dieting along with other weight loss methods but did not get the desired results.
What are the benefits of gastric balloon placement ?
The implantation of a gastric balloon is an outpatient procedure, meaning that you can go home the same day of the procedure.
It is minimally invasive and non-surgical, which means that it does not have enough risks and post-operative complications.
Additionally, long-term weight loss can occur if patients adopt healthy eating habits, therefore, this weight loss can in the long term improve pre-existing health conditions such as obesity-related diabetes, high blood pressure and sleep apnea, as well as boost self-esteem.
How to prepare for a gastric balloon ?
Prior to the gastric ballon operation, you will need to have some preparations done, there are preparations that you will be doing with your doctor and other you will need to do by yourself.
You will meet with your doctor for a preoperation appointment, this meeting will allow you to share your goals and desires from the procedure so that you doctor may prepare a treatment plan that is special for you and your condition.
The doctor will run some tests on you such as:
A blood test.
Gastroscopy.
Weight and fat measurements.
Checking for any allergies that can prevent you from undergoing the operation.
The doctor will also take a look at your medical history to see if you have any diseases that can be problematic to you during or after the procedure.
Any medication that contain aspirin should be stopped as they pose a threat to you during your procedure.
It's also highly necessary to have a meeting with a dietitian, they will see your condition and prepare a special meal plan for you after the operation, you will need to carefully watch what you eat after the gastric balloon procedure.
You must fast for at least 12 hours before the operation because the operation will be done under general anesthesia, as determined by the doctor.
Make sure you have someone prepared to drive you home and take care of you for at least the first day after the operation.
How is the gastric balloon inserted into the stomach ?
The duration of the procedure varies between 20 and 25 minutes, and the balloon is inserted endoscopically into the stomach.
First, a diagnostic endoscopy is performed to make sure there are no medical conditions such as ulcers that could interfere with the placement of the balloon.
If there are no abnormalities, a soft, deflated silicone elastomer balloon is placed in the stomach, once the balloon is in the stomach, a blue liquid is injected through an inflation tube attached to the balloon to complete the procedure.
The balloon will then begin to float freely in the stomach.
The installation of the gastric balloon is an intervention that is carried out under sedation so that you can receive it with complete peace of mind.
Patients wake up immediately after the procedure and are then discharged after a 2-hour observation period in the ward.
What happens after placing the gastric balloon ?
One of the best features about the gastric balloon operation is that it does not require a long period of healing, it is after all a nonsurgical procedure.
However, during the first days of your postoperative period, you may suffer from acid reflux, stomach aches, vomiting and nausea, the doctor will prescribe the necessary medication to lower the discomfort.
Your dietitian and doctor would have prepared an eating plan that is special for you, usually you will have to start with a liquid diet during and then work you way up to pureed foods and then go back to eating regular meals.
Make sure that you are always taking small bites and to chew your food very well so that no discomfort may occur.
To insure a rapid weight loss, it is best to start a training schedule when your body is ready, it's important that you adopt a healthier lifestyle.
What if I can't take the gastric balloon ?
If the balloon is swallowed and placed inside the body, serious complications are unlikely.
However, for other intragastric balloon inserted endoscopically, if you are unable to swallow it and nausea, vomiting or other discomfort persists, then the doctor can remove the balloon.
This is one of the reasons why some practitioners recommend staying for 2-3 days after placing the ball. This way your doctor can be sure that you are completely safe and ready to go home.