Cryolipolysis in Tunisia is a recent technique of aesthetic medicine which consists in reducing fat rolls and destroying cellulite using cold.
In general, cryolipolysis makes it possible to reshape the silhouette by using cold to eliminate fat cells, adipocytes are destroyed selectively by exposing the areas to be treated to intense cold.
Unlike liposuction, a cosmetic surgery technique which also involves removing fat, cryolipolysis is less invasive.
What is the price of a session of cryolipolysis in Tunisia ?
At MedEspoir, our main goal is to offer you the most relaxing experience possible, which is why we offer you the chance to save 70% on the price of cryolipolysis in Tunisia.
Medespoir Canada offers you all-inclusive rates that include the practitioner's fees and the entire stay to carry out your therapeutic project.
Do not hesitate to contact our advisers for a free estimate.
How does a Cryolipolysis session take place ?
Cryolipolysis, also known as Coolsculpting, is one of the innovations in aesthetic medicine for patients who suffer from excess fat that deforms their physique and makes it unsightly, and who wish to get rid of these excesses. Localized fat, a technique without scars or long post-operative results.
By opting for the elimination of fat by cold, these patients find several advantages in cryolipolysis.
The apoptosis (death) of adipocytes is painless and rapid.
Cryolipolysis acts on:
The belly.
Arms.
Inner thighs.
Hips.
The buttocks.
Saddlebags.
It should be noted, however, that Cryolipolysis Tunisia is not an intervention dedicated to overweight or obese patients.
It essentially treats superficial and deep subcutaneous fat, but not visceral fat, this non-invasive fat cell removal technique can treat arms, thighs, love handles, saddlebags, knees, stomach, etc.
Considered today as one of the most reliable and best suited techniques for the treatment of stored fat, cryolipolysis has enormous advantages in aesthetic dermatology.
In addition to its effects and especially its harmlessness, it must also be recognized that the operating technique is very simple.
The duration of treatment of localized fat by cryolipolysis can be approximately 1 hour 30 minutes, it all depends on the number of localized areas involved and also on the importance of fat storage 0.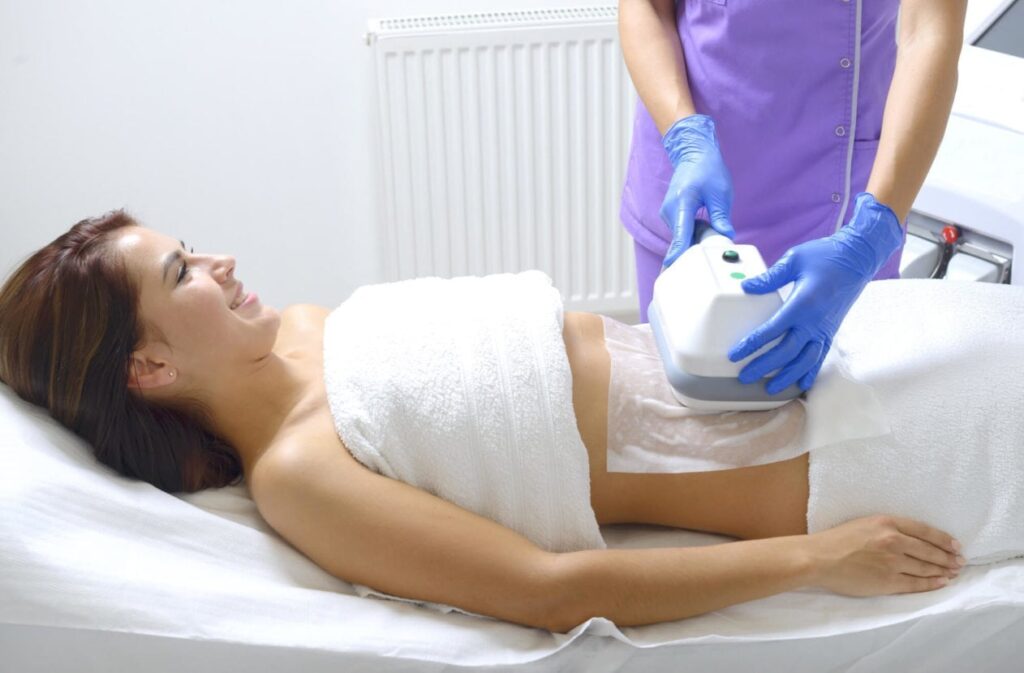 What happens during the Cryolipolysis session ?
An applicator allows you to suck the fatty area to be treated. This applicator has an oval shape and is made of silicone, it is equipped with transducers or an extractor which emits heat by electrodes on the bead of adipocytes which freeze to the point of falling below 0°.
Given their sensitivity to cold, fat cells will go into apoptosis. This natural and progressive death of adipocytes will be followed in the weeks to come by their natural elimination from the body, this procedure is completely painless.
What are the consequences of Cryolipolysis ?
One of the advantages of this intervention is that after a session, the patient can resume the normal course of his life. We find this type of advantage with all aesthetic medicine interventions such as radiofrequency.
​What are the results of Cryolipolysis ?
In principle, a single coolsculpting session may be sufficient. It all depends on the amount of fat infiltrated and also the areas involved, the amount of fat cells eliminated after cryolipolysis is generally estimated at more than 20%.
This can correspond to nearly 1/3 of the aspirated area.
Bare in mind that the results will only be visible after a certain period of two to three weeks, and to observe the final result, you will have to wait 60 to 90 days.
It is therefore obvious that more than one session for a patient is sometimes necessary, but the assessment can only be done with a specialist.
​What are the risks of Cryolipolysis ?
No risk is foreseeable. Depigmentation, skin burns or any other damage to the skin, muscle or nervous tissue have not yet been noted following a cryolipolysis session.