Our bodies are temples that we need to take good care of, so physical well being and feeling good about you look are highly essential.
And to achieve that satisfaction you will need to have symmetry between all of your body parts, and this achievable with standard methods like dieting and training but they can take so much time and are not always guaranteed to deliver the desired goals.
When it comes to female body beauty, many aspects are taken into consideration, one of which is the curviness of her body, these curves give a better definition of the body and enhances it's sexiness.
The buttocks are the most important part in that aspect, after all it's what everyone looks at when they see a beautiful woman walking by, it's only human nature.
But due to genetics or a rapid loss in weight your butt may lose it's shape and can appear unsymmetrical compared to the rest of your body making you look like you have a long back.
But with MedEspoir you can forget about that problem because we offer the buttock lipofilling operation in Tunisia for you so you can have your beautiful figure back.
Buttock lipofilling in Tunisia is done with the hands of the best doctors in the world and at the lowest price.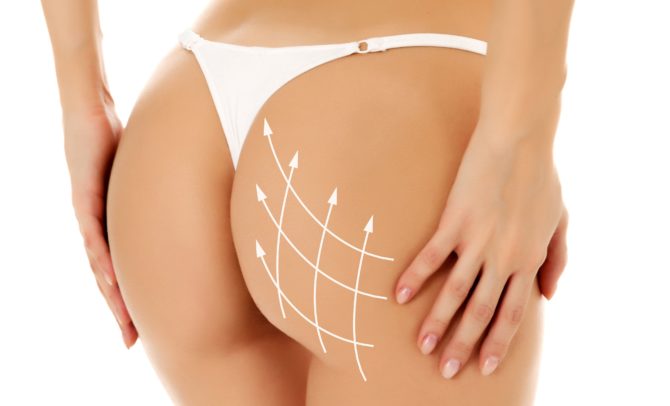 How much does buttocks lipofilling cost ?
Do you want to save 70% on the price of having you cosmetic surgery in Tunisia? Well then MedEspoir is you best choice.
Through out the many years that MedEspoir has been in the business of aesthetic medicine and cosmetic operation in Tunisia, we have always aimed to developpe the best experiences that our patients can have.
This is why we have created our unique all-inclusive package to make sure that we have the most affordable prices for cosmetic surgeries in the world.
With our all-inclusive deal you will be able to have the buttocks lipofilling operation in Tunisia with a low price because the package covers:
The hotel room during your stay in Tunisia.
Clinic and operating room fees.
The fees of the medical team in charge of the operation.
Airport-hotel, hotel-clinic and other transfer fees.
The costs of the medical equipment used for the procedure.
The post-operative care and medication.
What is the buttocks lipofilling operation ?
Buttock lipofilling or buttock liposculpture is a technique that consists of extracting excess fat from different parts of the body such as the abdomen, thighs or love handles and injecting it into the buttocks. Over time, the shape of the buttocks becomes very flat, devoid of the relief and roundness necessary to make them look beautiful.
Cosmetic surgery is the only effective solution to obtain a firm and round buttocks.
Just as we can perform breast augmentation by fat injection or facial rejuvenation by lipofilling, we can also gain volume in the buttocks with this technique.
Is it possible to undergo other procedures with buttock lipofilling ?
Yes, it is possible to carry out other aesthetic procedures at the same time as a buttock lipofilling, depending on the individual needs and wishes of the patient.
However, this will depend on several factors, including the overall health of the patient, the amount of fat to be injected, and the type of surgery being considered.
For example, it is common to combine buttock lipofilling with liposuction to remove fat from certain parts of the body before injecting it into the buttocks. Other cosmetic procedures that can be performed at the same time as buttock lipofilling include:
Breast surgery.
Abdominoplasty.
Facial surgery.
How to prepare for buttocks lipofilling in Tunisia ?
Prior to any cosmetic surgery, there is a mandatory appointment that you need to take with your doctor to be well prepared for the operation.
During this meeting, the plastic surgeon will carefully study your body to establish the areas to be corrected with liposuction and corrected with lipofilling to lift your buttocks and establish a harmonious result.
The doctor will also run some tests and check you medical history to see if you have any health condition that can prevent you from having the operation or pose a threat to you during or after it.
You will need to tell your doctor about any medication that you are taking or any allergies.
An interview with the anesthesiologist will be necessary to eliminate all the risks associated with anesthesia.
You must quit smoking before a month from the time of the operation and limit your alcohol consumption.
Prepare to have some time off work to relax during your postoperative period.
What happens during buttocks lipofilling ?
The operation will be done using general anesthesia and will take 1 to 2 hours to be done.
The procedure will start by having the doctor mark the areas of your body that will be used to extract the fat cells from usually:
Arms.
Legs.
Belly.
Thighs.
The Fat cells will be extracted using the soxhlet machine, with this highly advanced medical tool the fat cells are collected safely and without any kind of pain, and it does not leave any major scars.
After the collection of the necessary cells, the fat is then transferred to the lab so that it could be purified and processed.
After that the doctor injects the cells back into your buttocks to achieve the perfect shape and size.
Since the cells originally belong to your body, they pose no harm and your body will not reject them.
This natural filler is formed by its own living fat cells, which will cling to their new location permanently.
What happens during the post-operative period of buttock lipofilling ?
You will be strongly recommended not to sit on the fat graft for 15 or 20 days, so you should sleep on your side or upside down during this period so that the grafted fat does not be reabsorbed.
Recovery after fat injection buttock lipofilling can vary depending on the extent of the surgery, the amount of fat injected, and individual healing ability.
In general, complete recovery after buttock lipofilling can take 4 to 6 weeks.
You will need to wear a compression sheath for 3 or 4 days in the fat donor area.
It's normal to notice redness, swelling and feel a mild pain during the first period of your recovery, the painkillers that the doctor will give you should be enough to deal with the discomfort.
Make sure not to do any hard labor or lift heavy objects so that you don't risk damaging your body.
The only scars present on the donor site are the size of the sampling needle (3 mm), they are not very visible because they are located in the natural folds of the body.
If you lose weight after buttock lipofilling, will your buttocks shrink ?
If you lose weight after a buttock lipofilling procedure, there is a greater chance that your buttocks will also lose volume.
This is because the fat that has been injected into your buttocks comes from other parts of your body, and if you lose weight in these areas, the amount of fat available to be injected into the buttocks decreases.
You must therefore maintain a stable weight after buttock lipofilling in order to preserve the results of the procedure.
Following a healthy, balanced diet and exercise program to maintain overall good health and reduce the risk of weight gain helps maintain results.
What are the results of a buttock lipofilling in Tunisiaif you want to have a sexy curvy body then visit MedEspoir to get buttock lipofilling in Tunisia, the lowest price, best doctors ?
Remodeling, enlargement, improvement and embellishment of the contour of your buttocks are possible thanks to autologous fat.
With this procedure, it is possible to improve and give more firmness to this important part of the body and your appearance without resorting to buttock implants.
After the buttock lipofilling, your figure becomes harmonious through a new rounded curve of the buttocks for a perfectly natural appearance.
After a period of 2 to 4 weeks, the first results are observed.
It will take between 4 and 6 months to see the final result.
What are the risks of a buttock lipofilling operation ?
You should always remember that all medical procedures have a small risk factor that you need to take into consideration.
Buttocks lipofliing is no different, however the doctor will make sure to show you how to stay away from risks.
Some of the risks of buttocks lipofilling are:
Infection.
Temporary lack of lymphatic circulation in the donor area.
Hematoma.
Possible irregularity of the skin tissue.
Difficulty of movement.