Body-Jet or Hydrojet is liposuction assisted by a pressurized water jet that sculpts the silhouette by suctioning out excess fat, improving on traditional liposuction for its benefits and results. This technique facilitates the extraction of fat for later reinjection.
How much does body jet in Tunisia cost?
MedEspoir offers the perfect combination between total professionalism and affordability; this is achieved with our unique all-inclusive package.
Our all-inclusive package allows you to have the body jet treatment in Tunisia while also having all the necessary costs covered such as:
Clinic and operating room fees.
Medical team fees.
Airport-hotel, hotel-clinic and other transfer fees.
The cost of medical equipment used for the sessions.
What are the advantages of the Body-Jet?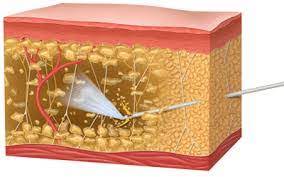 Large volumes can be aspirated with local anesthesia.
Does not require hospitalization: it is done on an outpatient basis.
It is less traumatic: it produces less pain and inflammation.
Much less liquid is used: it is determined by the software to use the correct amount.
Faster intervention: one hour, depending on the amount of fat to be extracted.
The recovery time is shorter: you can resume your activity very soon.
After performing Body-Jet liposuction, it is recommended to complement it with other techniques that improve the results. Radiofrequency Tunisia helps prevent sagging, lymphatic drainage as well as ultrasound are also beneficial. All these aesthetic medicine treatments, that do not involve surgery, are performed by the best surgeons and aesthetic doctors.
How doe a Body Jet session take place?
Liposuction is a very effective contouring treatment. The traditional technique consists of inserting a cannula connected to a suction pump
which absorbs fat through a half-centimeter incision. This procedure is performed under local anesthesia or under general anesthesia.
It is the surgery that is the most practiced in the world and that is why great advances have been made in the technique to improve the results, such as
than liposuction assisted by a pressurized water jet, called Body-Jet or hydrojet.
This jet of water is fan-shaped and injected into fatty tissue to help loosen it and facilitate suction. The pressurized water also opens the way to the cannula, making the technique less traumatic. Body-Jet water-assisted liposuction is an excellent alternative to laser lipo (smart-lipo).
Since the procedure uses high-pressure water currents to gently dislodge fat, it is less invasive and causes less damage to surrounding tissue.
Body-Jet liposuction is indicated for men and women who wish to eliminate localized fat in certain areas of the body.
Aftermath of a Body-Jet liposuction session.
After the procedure, you must help the skin adapt to its new contour, in addition to controlling the initial swelling, for this purpose, a belt is used in the affected areas for two months.
One of the great advantages of Body-Jet type liposuction is that normally in just three or four days you can return to normal activity.
​What are the results of a water-assisted liposuction session?
Very effective in rejuvenating patients who notice the effects of the passage of time and want to correct folds and irregularities in their figure, however, it should not be considered a weight loss method.